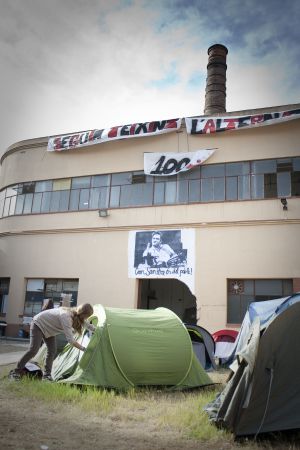 Passen coses interessants. A Premià vivim

l'

experiència d'ocupació col·lectiva d'un referent de la classe obrera local del segle XX: La gran fàbrica de Can Sanpere. Parlem d'una

superfície urbana qu

e

fins farà quinze dies estava abandonada per

è que,

per les coses del mercat, s

'havia

convertit en els darrers anys en una més d

e les

propietats del capitalisme constructor de Núñez i Navarro. Un espai, can Sanpere

, que és

objecte de desig del sector immobiliari i que esdevé una peça de controvèrsia i de divergènci

es

domèstiques en una part important de la classe política local (almenys de la que funciona a partir dels paràmetres del politicament corre

cte).
Entrentant avança el projecte d'un centre autogestionat en el marc del moviment reivindicatiu Can Sanpere 100% Públic i s'

escolten

idees en totes direccions per tal que aquesta fàbrica visqui una nova vida dedicada a la cosa pública i popular, a les necessitats socials i a allò que determini el poble. Una si

tuació que es viu a l'

espera (si es pot dir d'alg

u

na manera moderada) del que hauria de ser una major i més clara voluntat política basada en la sensibilitat que requereix entendre que les reivindicacions del carrer són el tronc elemental de la política municipal més enllà de les lògiques de partit. Els objectius i les estratègies de la propietat, lògicament, són les que són i no cal esperar condescendències amb les institucions i els moviment

s socials.
A Can Sanpere, p

reservant

la major part de l'actual fàbrica, hi caben moltes coses:

L'

autogestió, els equipaments socials, la mem

òria històrica de classe,

la trama associativa, les zones verdes integrades i, sobretot, la dignitat del comú front el privat. No inventem res quan a tot això ho anomenem "fer poble". La resta, certes derives partidistes extremadament legalistes i negociadores, forma part del paisatge comú de les derrotes de sempre (que tampoc estan inventades).
Posem-hi banda sonora, article del Kiko Amat i una bona dosi de soul-pop de la millor collita antithatcheriana dels anys de plom (diuen que la dama de ferro s'ha mort però el seu llegat perdura per la banda dreta i, lamentablement, per la banda neolaborista). Renunciar a la identitat de classe -com apostar contràriament i creure en la consciència de ser el que som- tampoc són invents del moment.
THE JAM
The Gift
Polydor
soul marxista The Gift es el disco soul de The Jam. El propio Weller admite que marcó el comienzo de su "purificación mod". Fan del soul desde siempre, Weller se radicaliza en 1981: se corta el cabello al tres, contrata a un DJ de northern soul para las giras, reúne a grupos inesperados (Bananarama, TV21) para shows al estilo Motown Revue… The Gift, de 1982, es el reflejo de ese anhelo. Disminuyen los himnos punk-mod y se substituyen por funk y soul. Es, salta a la vista, una obsesión, y como tal es hermosa. Las influencias están claras: Curtis, Motown, Chi-Lites, Brass Construction… Todo negro. De entre sus contemporáneos, Weller cita a Pigbag y el primer 12" de Spandau Ballet como caminos a seguir. "Precious" es la obvia consecuencia funk, pero "Town called malice" es el hit: Motown en serio, sin rockizar, lleno de trompetas y Vandellas, la letra una mirada a la depresión causada por el Thatcherismo. The gift es su disco más izquierdista. La mirada empática del "That's entertainment" se torna diatriba: "Trans-Global Express" aúna Marx y northern soul (copiaba el "So is the sun" de The World Column).
Pero, a pesar de la fijación soul, la cabra aún tira pal'monte. Vuelven las grandes baladas pop ("Ghosts" y "Carnation"), crónicas Kinks ("Just who is the 5 o'clock hero"), pop trotante ("Running on the spot" y "The gift") y solo dos rellenos: el instrumental "Circus" (de Bruce Foxton) y un tibio calypso ("The planner's dream goes wrong"). Esta edición suma The Gift con demos y singles pre-disolución. La cruzada soul seguiría con "Beat surrender" y tres versiones ("War" de Edwin Starr, "Move on up" de Curtis Mayfield, "Stoned out of my mind" de The Chi-Lites), pero también hay baladas sobre ruptura ("The bitterest pill (I ever had to swallow)), elegante pop-jazz ("Shopping"), incluso canciones que terminarían en The Style Council (una rara "Solid bond in your heart"). Menuda despedida.